Book a reservation and travel in comfort
In Germany you can travel on a train even if all the seats are already taken. This may be the case at peak times (Friday afternoon or Sunday evening). Therefore, we recommend that you reserve a seat with your ticket.

Make your journey comfortable and relaxing with a seat reservation. For long-distance trains, you can either book your reservation online directly with your ticket or separately, independently of a ticket.

You can also reserve seats for some regional trains - these reservations can be made at the ticket machines. We are working on expanding this offer for you.
Seat reservation for long-distance trains
For long-distance trains (Intercity-Express (ICE), Intercity (IC)/Eurocity (EC)), your seat reservation
can be booked with your ticket or independently of a ticket
can usually be booked up to 6 months in advance
One more thing: In first class, your seat is included with your ticket.
How full is my train?
When you view your selected connection on bahn.de and in DB Navigator, you can see how full your train is likely to be.
More information about seat availability
Discover Komfort Check-in with your mobile phone ticket
Prices

Individual reservations

EUR 4.90 (second class)
EUR 5.90 (first class reservation if the ticket is not purchased at the same time)
When a first class flexible or saver fare is purchased, the seat reservation is included.

Family reservation

EUR 9.00 (second class)
EUR 11.80 (first class reservation if the ticket is not purchased at the same time)

Group reservation

Included in the price of a group ticket (group saver fare).
Reservations for young children are optional and can be booked for EUR 5.90.
FAQ for seat reservation in long-distance trains
If you only want to reserve a seat but not buy a ticket, enter your desired connection in the search and click the box beside "Seat reservation only". This automatically takes you to the correct booking procedure.
Rebooking seats on long-distance journeys will no longer be possible for this fare as of 13 December 2020.
Reserve your daily seat and commute comfortably and economically with Deutsche Bahn.
Permanent reservation (in German)
Seats together for more than 5 persons or a specific seat booking for Intercity-Express (ICE) trains are available from the ticket shop or via the Deutsche Bahn service phone number: +49 30 2970 (costs depending on provider).
Your seat reservation remains valid until 15 minutes after departure.
Family reservations (up to five persons, of which at least one person must be a child, total price EUR 9) can be booked online. Simply select the number of children during the "Ticket & Options" step. If you are travelling with young children, you can also select a parent-child compartment here. You will be informed immediately whether seats are still available in the parent-child compartment.
Seat reservations for regional trains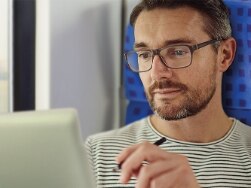 For some regional trains in Bavaria, Rhineland-Palatinate, Saarland and Schleswig-Holstein, you can reserve seats at the ticket machines. We are working on making it possible to reserve seats on regional trains in other regions too.

Seats...
are available from every DB ticket machine, DB Travel Centre or DB agency
cost EUR 1 per journey and passenger.
are valid for the selected train on the selected date.
One more thing: The seats with seat reservations are in marked areas of the coach. Please present your reservation confirmation when tickets are checked.
Bavaria:

Mainfrankenbahn
Treuchtlingen - Würzburg
Schlüchtern - Würzburg - Bamberg
Nuremberg - Würzburg

Donau-Isar-Express
Munich - Landshut -Passau

Werdenfelsbahn
Munich - Garmisch-Partenkirchen
Munich - Oberammergau
Munich - Kochel

Main-Spessart-Express
Würzburg - Gemünden - Aschaffenburg - Frankfurt

Franken-Thüringen-Express
Nuremberg - Bamberg - Würzburg
Nuremberg - Bamberg - Lichtenfels - Sonneberg Main Station
Nuremberg - Bamberg - Lichtenfels - Jena Saalbahnhof

Rhineland-Palatinate, Saarland:

Moseltalbahn:
Coblenz - Trier
Wittlich - Perl

Westpfalznetz:
Kaiserslautern - Bad Kreuznach-Bingen (Rh)

Südpfalznetz:
Karlsruhe - Landau-Neustadt (Wstr.) - Kaiserslautern

RE Netz Südwest (Süwex):
Coblenz -Trier - Saarbrücken - Kaiserslautern - Ludwigshafen - Mannheim
Mainz - Mannheim

Schleswig-Holstein:

RB 64 (Husum - Bad St. Peter-Ording)
RE 72 (Kiel Main Station - Flensburg)
RB 73 (Kiel Main Station - Eckernförde)
RE 74 (Kiel Main Station - Husum)
RB 75 (Kiel Main Station - Rendsburg)
RB 76 (Kiel Main Station - Kiel-Oppendorf)
RE 83 (Kiel Main Station - Lübeck Main Station - Lüneburg)
RB 84 (Kiel Main Station - Lübeck Main Station)
RB 85 (Lübeck Main Station - Puttgarden)

RE 8/80 (Lübeck Main Station - Hamburg Main Station)
RB 81 (Hamburg Main Station - Bad Oldesloe)

Expected from May 2018:
RE6/60 (Westerland (Sylt) - Hamburg-Altona)
RB 62 (Itzehoe - Heide)
RE 7 (Flensburg/Kiel Main Station - Hamburg Main Station)
RE 70 (Kiel Main Station- Hamburg Main Station)